Beechlawn Organic Farm – September 2022
CURRENT IRISH VEG AVAILABLE:
Beetroot, Broccoli, Cabbage (Pointed, Red, White), Celery, Chard, Cherry Tomatoes, Cucumber, Curly Kale, Dark Kale, Purple Kale, Fennel, Leeks, Lettuce, Mushrooms, Onions, New Season Potatoes, Salad Leaf, Scallions, Spinach
WHAT'S ON THIS MONTH:   
Saturday, September 10th, 10AM – 5PM
20TH BIRTHDAY CELEBRATION – HARVEST FAIR
Location: Beechlawn Organic Farm, Beechlawn, Ballinasloe, Co. Galway H53K753
Organic Farm Walks
Local Food and Craft Village
Cookery Demo
Barn Owl Project
Mindfulness Class
Music and Kids Zone
Irish Organic Association Q&A
Tuesday – Thursday, September 20-22
THE PLOUGHING 2022
Location: National Ploughing Association, Fallaghmore, Ballyadams, Co. Laois R14NY09
VEGETABLE OF THE MONTH:  Celery
Celery comes from the same family as Carrots, Celeriac, Parsley and Parsnips.  They are grown in a 'bunch,' make for a great low-calorie snack, and pair nicely with a variety of dips.  Although celery by itself does not always provide the most exciting flavour, it packs a great punch of nutritional benefits.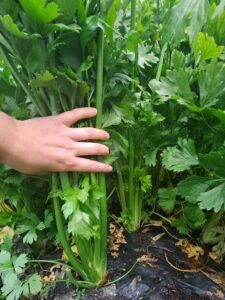 HEALTH BENEFITS:
Great source of important antioxidants that protect cells, blood vessels, and orangs form oxidative damage
Reduces inflammation
High in fibre and water content (approx. 95%), which supports a healthy digestive tract and can assist in lowering blood pressure
Full of minerals such as magnesium, iron and sodium, which have a neutralizing effect on acidic food
FUN FACTS: 
Ancient Greeks used these veggies as flowers to reward winners of athletic games.
The entire plants is edible – leaves and all!
According to the Guinness World Records, the world record for the tallest Celery Plant is 9 feet (2.74 Meters) in 1998 by Joan Priednieks (UK)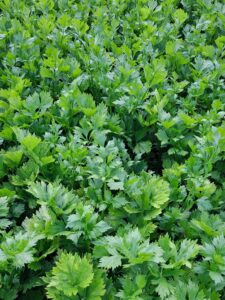 RECIPE OF THE MONTH:  Braised Celery
There are a million and one ways you can consume celery.  Eat it as is, pair it with a dip, juice it, add it to a stew, stir-fry or a blend it into a soup!  Your options are endless.  Perhaps you want to enjoy the nutritional value celery has to offer by turning it into a savoury side?  This nutrient-packed, simple side dish is perfect for any occasion, and you use the entire stalk, leaves and all = zero waste!
Ingredients:
1 Bunch of Celery
2 Tbsp Butter
Salt & Pepper to taste
175ml Vegetable Stock
Wash entire celery bunch and trim leaves (set leaves aside for later).
Cut celery stalks into 2-3cm chunks
Melt Butter in pan, add Celery and Salt & Pepper. Sauté on medium heat for 5 minutes until the celery starts to soften.
Add stock, bring to a simmer, cover and cook for 5 minutes.
Remove lid and continue to cook for 5 minutes until liquid has evaporated.
Garnish with leaves and enjoy!
Want to spice it up?  Add chopped chilies or chili flakes to this recipe in order to give it a little kick!