Autumn is here! And we have a fabulous selection of pumpkins this year.
Orange Pumpkin – Also known as the ''Halloween'' Pumpkin. You can turn this pumpkin into a spooky decoration, or you eat it.
Crown Prince – This pumpkin is the prince of its kind! Gray skin, but beautifully orange inside. The flesh has a crumbly structure and a full, sweet taste.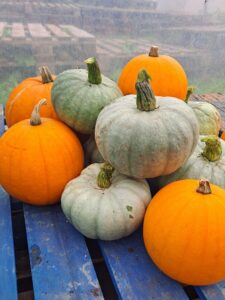 Uchi Curi – This versatile pumpkin has a soft, slightly nutty taste. The skin is edible and a bit softer than other pumpkins, so you don't have to peel the pumpkin when making soup, for example.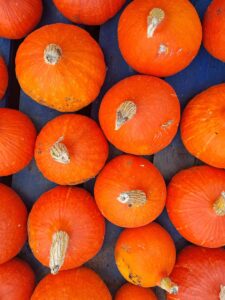 These three Autumn Pumpkins can all be used in a variety of different ways. They can all be sliced into wedges and roasted to create a caramelized, tender texture, and eaten as a side. They can also be roasted or cooked, then mashed as a side dish, tossed into a salad, stirred into a soup, or make a tasty addition to risotto.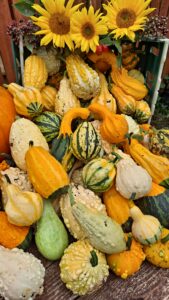 Decorative Gourds – It's in the name! They are decorations! They make the perfect spooky addition to any home for the Autumn Season. It is recommended that you do not eat these pumpkins.
We also have them available at our farm shop on Saturdays from 10:00am – 2:00pm.