CURRENT IRISH VEG AVAILABLE:
Beetroot, Cabbage (Red/White/Savoy), Carrots, Chard, Kale (Curly, Heritage), Leeks, Mushrooms, Parsnips, Potatoes, Salad Leaf, Spinach, Swede
WHAT'S ON THIS MONTH:
Prepare soil for Spring Planting
Potting Tomatoes
Planting Onions, Lettuce, Spinach, Chard
Continue Seedlings
VEGETABLE OF THE MONTH: LEEKS
Ready to Eat: August – May
HEALTH BENEFITS:
Protects your heart's health and helps lower blood pressure
Strengthens your immune system (Vitamin A, Vitamin E)
Vital for Health of our Nervous System (Vitamin B6, Vitamin C, Manganese)
Improves vision, reduce tiredness (Carotene, Lutein)
Reduce risk of cataracts (Zeaxanthin, Lutein)
Improves digestion (high in fibre)
Strengthens your bones (Vitamin K, Calcium)
FUN FACT:  Leeks and their link to hair and skin health
Looking for less invasive hair treatment on a budget? While it would require a regular consumption of this vegetable, leeks are high in manganese, sulfur, and iron, which can promote hair growth.  Or perhaps you are a looking for a natural face mask that can reduce inflammation and scarring from acne.  Juice the green leek leaves, apply to your affected area, and your skin will absorb the magnesium, iron and antioxidants and combat acne in a natural way.
QUICK TIP: How to properly trim and clean leeks
Trim roots and tough green leaves at top, remove outer layer if feels tough
Halve leek lengthways
Rinse under running water to remove any soil or grit
Chop into rings and they are ready for cooking!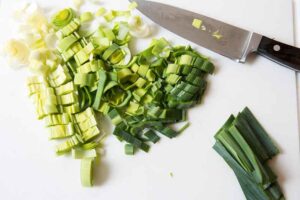 RECIPE OF THE MONTH:  Leek and Potato Soup
(2) Tbsp of Olive Oil or Butter
(1) Onion, chopped
(4) Leeks, chopped
(2) Garlic Cloves
(4) Potatoes
Vegetable Stock
Salt & Pepper to taste
Heat olive oil in pot over medium-high heat.  Toss in chopped onion and leeks into the pot and cook until soft (approx. 5-7min).  Toss in garlic and cook until fragrant (approx. 30sec).  Add potatoes and enough vegetable stock to cover the vegetables.  Bring to a boil, then simmer until potatoes are soft and can be mashed with fork.  Blend, add salt and pepper to taste, and for a creamier flavour you can add milk, cream, or any other dairy alternative.